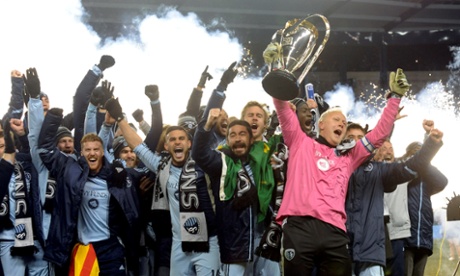 When the whistle finally sounded, it was Sporting Kansas City that had overcome Real Salt Lake to take the Major League Soccer Cup Final for 2013. The game went to penalty kicks – the second such championship game for RSL – as both teams were looking for their second title.
It has been three years since the Colorado Rapids claimed the title over FC Dallas in the cold confines of Toronto's BMO Field. Read a Rapids' staff reflection here. There has been much that has changed in those three years – in MLS as well as with the Rapids. As I reflect back on the team I offer some reflections that you might not exactly expect.
1. There is always a story behind the story – for every person standing on the field, on the sidelines, or in the stands there is a story to be told. Perhaps it is two men fighting for the same position, the same spot on the team; or, maybe it is a coach whose job has been in jeopardy throughout the season – win it all or he's done; and there are dozens of stories about those in the stand – wives praying that their husbands win the game so there can be a contract extension and another year of stability; moms and dads hoping that their son can overcome the injuries and defeats and finally accomplish the goal; staff members who have toiled long hours to see an organization set up for success on so many different levels; and supporters who have spent thousands of dollars following and supporting their heroes. Each of these stories build into the emotion and drama that feels like a dramatic roller coaster.
2. Winning it all doesn't solve everything – I remember tears on players' faces after learning within 12 hours that they were going to be exposed to an expansion draft. Champions for 12 hours – and then the club had to designate who would be sent to different teams. Questions of value, importance, and honor dropped some like weights when they found out there return the following season was unlikely. Coaches had even less time before they were forced to make decisions about breaking up the championship group. There was no time for a sit-down, tell-it-to-your-face conversation. Families that were celebrating the night before were wondering where they would be by the end of the day.
3.  Men are always in search of more – closely tied into the reflection above, there were some powerful feelings in the days and weeks after the Cup. For some, they commented on feeling a sense of emptiness, others had questions of "Is this all there is?" While winning the Cup meant the accomplishment of lifelong dreams for many, there was an overwhelming sense that somehow one's significance had not greatly improved or changed – in fact, some felt even a greater despair.
It is in the moments when the glitter and confetti ceases to fall, the lights go dim and then dark, the raucous noise of  fans goes quiet and we are left to ourselves – here is where we find that we must still wrestle with the internal questions that have always existed. We find, truly, that the glory of the moment is so quick and fleeting. Even as team chaplain, I have found myself feeling some of the same emotions described above. While there has been much joy, there has also been pain around the triumph to tragedy movements around what many might claim as the organization's most glorious achievement – MLS Cup.
In reading, perhaps you have experienced this for yourself – an achievement in the academic setting or the workplace or home. Maybe you have seen loved ones go through the deflation of hope that has come when a personal or professional achievement was found to lack the meaning and significance that was believed to be inherent within. These all point to the human need for something greater, for something transcendent. In truth, it points to our need for God – greater than shiny silverware and trophies – God's presence and work in our lives is about Divine mastery and artistry. C.S. Lewis, mentions this in his work, The Problem of Pain:
"We are, not metaphorically but in very truth, a Divine work of art, something that God is making, and therefore something with which He will not be satisfied until it has a certain character. Here again we come up against what I have called the "intolerable compliment." Over a sketch made idly to amuse a child, an artist may not take much trouble: he may be content to let it go even though it is not exactly as he meant it to be. But over the great picture of his life—the work which he loves, though in a different fashion, as intensely as a man loves a woman or a mother a child—he will take endless trouble—and would doubtless, thereby give endless trouble to the picture if it were sentient. One can imagine a sentient picture, after being rubbed and scraped and re-commenced for the tenth time, wishing that it were only a thumb-nail sketch whose making was over in a minute. In the same way, it is natural for us to wish that God had designed for us a less glorious and less arduous destiny; but then we are wishing not for more love but for less."
And, so, in our "great picture of life" – whether we have MLS Cup trophies, significant climbs up the ladder of corporate success, a beautiful and flourishing family – all of these things are subject to the working of God as He continues to shape and make us His beautiful creation. They (trophies and triumphs) are all shadows and as empty and fleeting, too, in comparison to the real need for God – for, truly, only in Him can we truly experience victory as champions.
Blessings,
Rev. Brad Kenney