From the Rev: Super Monday

Psalm 20:7 Some trust in chariots and some in horses, but we trust in the name of the Lord our God.
I am a Denver Bronco fan – have been for most of my life (brief stint as a Raiders fan, but I can't explain that all here – years of counseling). I have lived through three of the SuperBowl losses (1977 – still too young, only 2 years of age) and cringed as my friends would comment about the Broncos poor SuperBowl record (who wants to keep company with the Minnesota Vikings?). So in watching last night, I was disappointed to say the least (maybe I thought Payton was greater than Elway). Many of my friends and family were disappointed, too. Maybe it was all the records being broken. Maybe it was the high power, high octane offense (although, secretly, I didn't feel as confident as others did).
After working for a long time in professional sports, I have come to see Psalm 20:7 in a helpful light of my professional sport interests – I realize that I cannot put any trust into the chariots or horses (or Broncos) of this world. I must keep my trust in the LORD for He is unchanging, He is faithful, He is unfailing.
In our world, there are many who put their trust in temporal, fading things – crowns, rings, medals, trophies, and accolades – all of these are so fleeting. They do not last. They are the stuff of earth, not the stuff of heaven.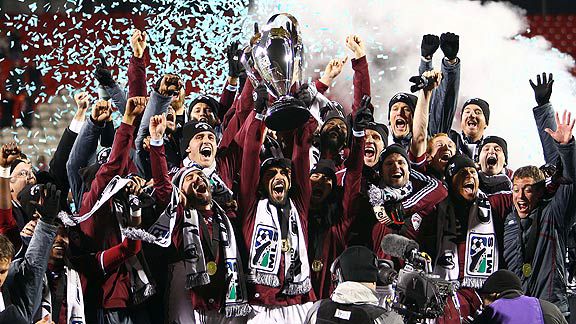 Part of my personal experience with this was when the Colorado Rapids won the Major League Soccer Championship game in 2010. I was there, on the field, as the players and coaches their families and the fans celebrated the first championship in team history (still one of only two championships to come to Colorado since those '98 Broncos – National Hockey League Av's in 2000-1 being the other). It wasn't 45 minutes after leaving the field that coaches were having to determine which players on the roster would be unprotected for the MLS expansion draft – players didn't even get to celebrate the championship before being told that they might be traded or waived.
The luster of the trophy and the ring and the victory parade and all of the celebration has faded and even some of the memories of that monumental moment have been forgotten and lost in time – the things that remain the strongest to my memory are the moments when God worked or did something amazing within the team or in moments or pain or loss.
So while Monday may not feel so "Super" for Broncos fans everywhere, for those who have placed their primary trust in the Lord have nothing to fear – they realize the SuperBowl for what it is and what it is not.
Blessings,
Rev. Brad Kenney