From the Rev: Summer Slumps
The Colorado Rapids latest loss on Saturday meant the longest slump of the season with three losses in the last three games, and only one win in the last seven. While not the longest losing streak in recent times (a six game stretch during 2012), it comes at a difficult point in time for the team during this season with many difficult opponents yet to play. Slumps are not uncommon in sports – every athlete in every sport can slump at any time and sometimes it is difficult to get back into a winning or successful rhythm. Many athletes and organizations put a lot of time, money, research, and energy into overcoming the droughts that come in performance-oriented environments.
But slumps don't just happen in sports. Slumps happen in other aspects of our lives, too. Whether it is in a career, a marriage, mid-life, or even our own faith – we all fall into those places where we find success difficult and we are filled with fear, doubt, depression, or worse. What does one do in those moments when there seems to be no relief? What ought we do when we go through those seasons of drought in our lives – whether we have a losing streak or just, plain seem to be playing the role of loser?
The Bible is replete with many examples of "slumps" or droughts that people go through – some literal (periods where the rain just doesn't fall) and some more metaphorical (related to faith and belief). Below are couple of ways that we can respond to the slumping moments of life that we go through.
1. Help for Unbelief – One of my favorite stories in the Bible is when a father comes to Jesus and cries out, begging him to help heal his child. Jesus asks the father, "Do you believe?" To which the father responds, "I do believe, but help my overcome my unbelief!" (Mark 9:14-29). What I love about this particular story is the brutal honesty of the father – he realizes the limitations of his own ability to believe. There are many in our world who make a lot of money writing "self-help" books and developing personal psychology which encourage people to believe in themselves and to "dig deeper," etc. When was the last time that you heard any of them acknowledge the spaces of unbelief that one has in life?
I know, personally, that for me in the greatest moments of unbelief and doubt that I have needed to rely on my faith in Jesus Christ to see me through those difficult moments.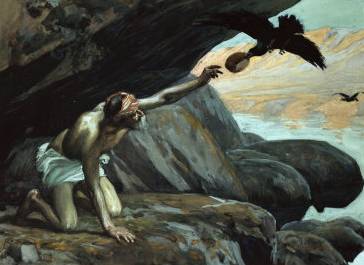 2. Rest in the Midst of the Drought – The story of the prophet Elijah features a major drought and famine in the land. There is time when Elijah, hiding and on the run during the drought, was fed by the Lord by ravens (I Kings 17) and another time at the end of the drought period (I Kings 19) when an angel of the Lord cared for Elijah who was at the point of utter desperation. The vitally important reminder is that there are periods when we cannot go on in and of ourselves and we need to be cared for by others – especially in our faith. We need to receive Divine "assistance" and sometimes a direct touch from the Lord. Many times in the midst of the drought and slump as people we tend to try and "push through" or we change routines over and over until we can rediscover or find that rhythm or success. We fail, though, to rest in those periods and to realize the benefits of resting in the midst of the slumps of life.
During a period of unemployment after graduate school, I remember learning about my own need for rest. I was working hard several hours a day – resumes, job applications, online database searches, meetings, interviews – nothing seemed to be working. I was worn out – emotionally and spiritually, in many ways. I started to segment the time that I spent in the job pursuit and the time I spent with my daughter at home. I rediscovered creativity and life in those moments of "rest"  from the job hunt.
3. Companionship on the road – The Bible has many stories of the beauty and strength of companionship. Ecclesiastes chapter 4, relates it this way:
9 Two are better than one,

because they have a good return for their labor:

10 If either of them falls down,

one can help the other up.

But pity anyone who falls

and has no one to help them up.

11 Also, if two lie down together, they will keep warm.

But how can one keep warm alone?

12 Though one may be overpowered,

two can defend themselves.

A cord of three strands is not quickly broken.
 Ruth and Naomi, David and Jonathan, the two disciples on the road to Emmaus, Elijah and Elisha – there are many examples of God providing special companionship for difficult roads and trials, seasons of pain and drought.
In my life, God has always managed to bring a close companion for the road that I needed to walk – whether through my school years or in ministry, I have shared a special bond with another person. They have been there to help encourage and lift me up while going through those "summer slumps."  They help reorient me and help me to see things from a bigger picture – that God isn't finished with me and that I am not alone.
While just a few ways of coping with the slumps of life, I believe the above to be some of the best ways that God gives us help. I pray that if you are going through your own slump that you will lean upon the Lord. Trust him. Cry out to him. He knows you're need and he will provide. May God get you through the "summer slumps" that you encounter in life.
Blessings,
Rev. Brad Kenney