With World Cup 2014 Brazil, just a few months away, millions are preparing for the largest event in the world to capture the imaginations and dreams of people young and old, from hundreds of different countries, and many different backgrounds.
In advance of the World Cup, there are many different groups and organizations looking to leverage one the largest sporting events in the world (next to Olympic opening ceremonies), and if the last World Cup (2010) viewing numbers – estimated close to 1 billion with TV and internet viewing – is to be believed, the 2014 finale will probably grow beyond. It is probably safe to say that the World Cup has significant influence globally. But while some will use the World Cup stage to sell and promote their product or their country, there will be several groups working to promote something much more important: Jesus Christ.
Athletes in Action is one such group and they have produced a DVD featuring soccer player testimonies for use around the world. The DVD known as THE PRIZE: UNDER PRESSURE is a follow up to the 2010 version THE PRIZE: CHASING THE DREAM. Translated into 35 different languages, The Prize: Under Pressure features the stories of five professional footballers: Kaká, Eyong Enoh, Jacob Mulenga, Cacau, and Brad Guzan. These players, recognizable around the world, share how they cope with the pressure that comes – whether playing for club or country.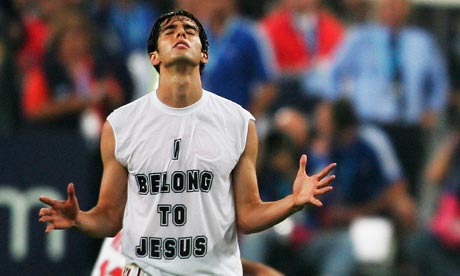 CrossTraining has received several copies of The Prize: Under Pressure. If you would like a copy for your group, please contact us. A small donation to help cover the costs of the DVD and shipping and you will be able to use this tool to share the good news of Jesus Christ with many who follow the world's game of soccer.
Send an email request to info@crosstraining-us.org.